Product Description
SMACO NEW ARRIVALS – S700 2L SCUBA TANK
The latest SMACO mini scuba tank, which could provide 20-25 minutes underwater breath(depending on the the breathing rate). We use an extened tube to connect with pressure gauge, which make it more convenient to check the remaining gas. Moreover, we replaced the portable bag with a backpack, you can easily carry the scuba tank and free your hand underwater, backpack can be adjust by your need.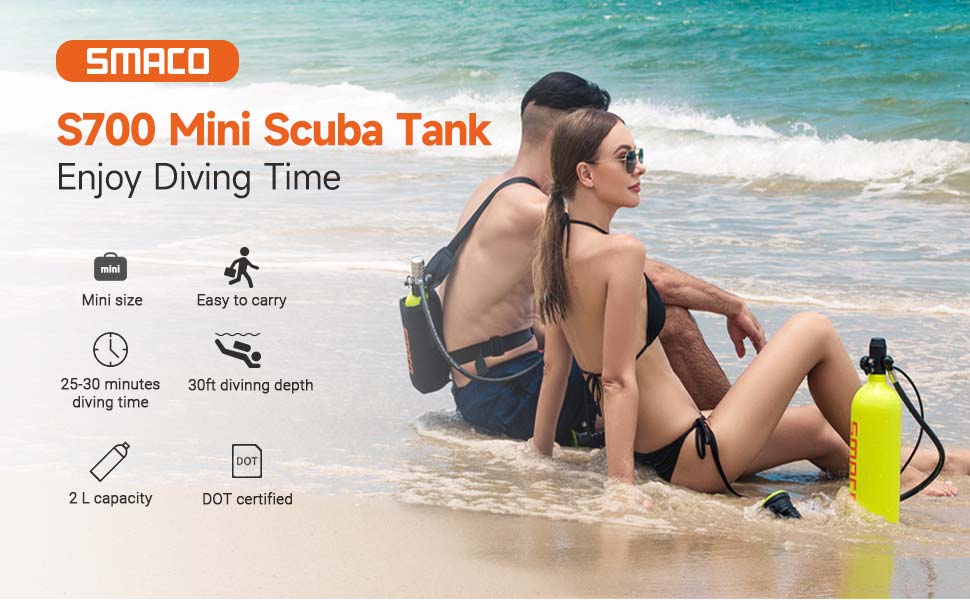 PROFESSIONAL DIVING CYLINDER
Comply with DOT certification, the cylinder is made of 6061 aviation aluminum, and the surface is plastic sprayed, which can effectively resist seawater corrosion, It can be used continuously for up to 2 years. We use the latest S700 regulator,which equipped with air switch, 5K explosion-proof valve, 8mm inflation interface, decompression chamber and other components to ensure that the gas cylinder is sufficiently safe.

MORE CONVENIENT SCUBA TANK
The scuba cylinder is composed of four parts: tank body, regulator, extension pressure gauge and secondary valve (with medium pressure tube), and it can be used normally only by tightening the connection. We have equipped S700 gas cylinders with a special aluminum alloy outer box. You can also take the mini scuba tank on the plane as you would carry luggage (when the gas cylinder is split).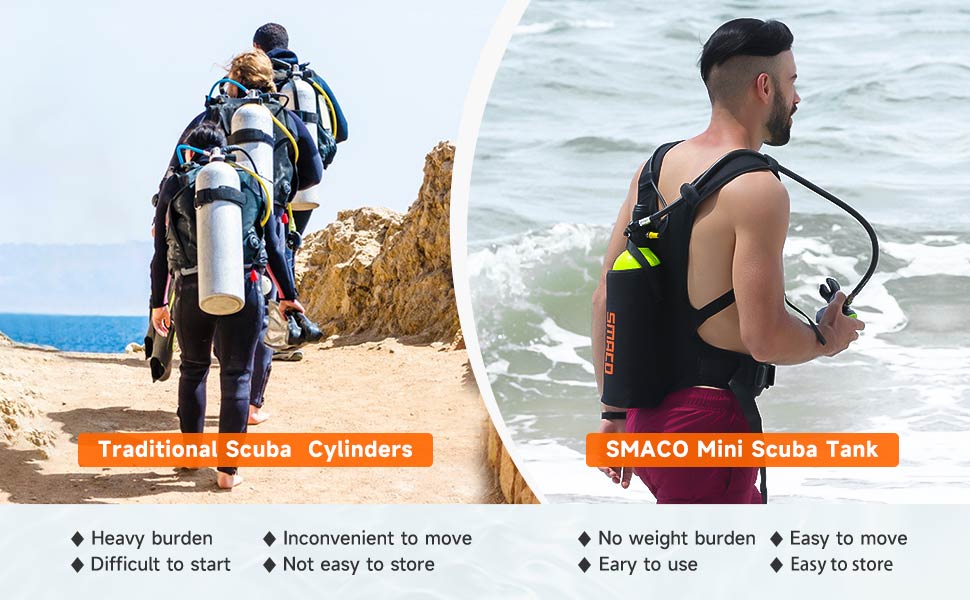 MULTIPLE INFLATION WAYS
The diving cylinder's inflation interface has a diameter of 8mm, maximum inflate pressure is3000Psi/200Bar/20Mpa. We have got CE and DOT certified, you can get inflated in most the scuba shop. If you have a electric pump, you can easily inflate for it yourself, but please make sure your electric pump could provide pressure no lower than 3000Psi/200Bar/20Mpa. Moreover, you can also inflate by scuba adapter.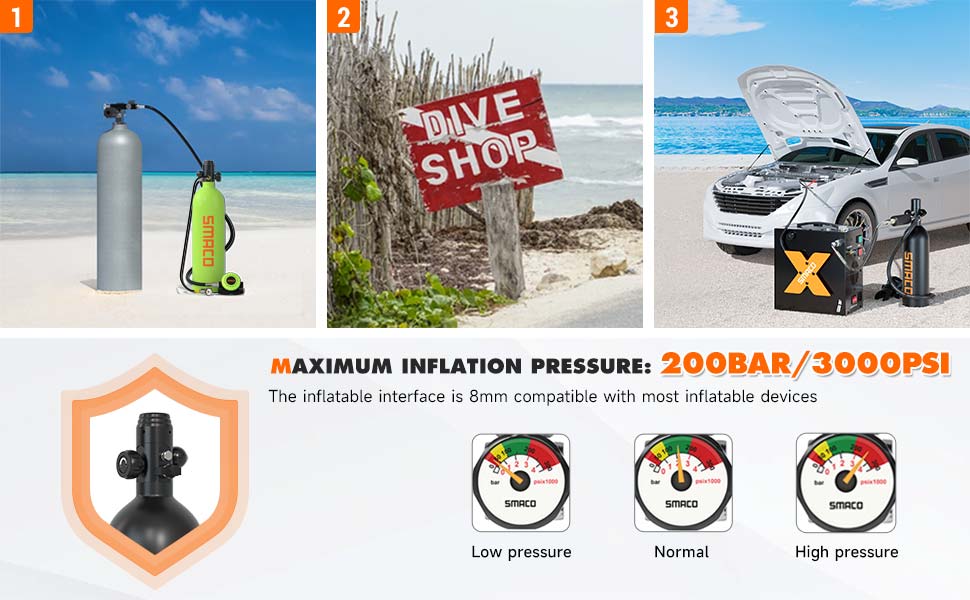 WHAT WILL YOU GET
S700 mini scuba tank (the regulator is separated from the body, you'll need to assemble them), portable backpack, user's manual, and some additional interchangeable accessories. 
AFTER-SALE SERVICES
We provide 30-days-return and 24-hour online customer service, we always be responsible for our products.If you have any questions, please do not hesitate to contact us.
PRODUCT GUARANTEES
 SMACO offers a 30-day money-back guarantee for customers who are not satisfied with the product. If the product was shipped, the purchase price will be refunded minus the shipping costs.The cost of trial and error is not high, but the cost of miss is very high.

SMACO offers a free replacement for products you received that do not work. You just need to provide your order number and order information on our website, and we will provide after-sales service immediately.

SMACO offers a one-year after-sales service and provides free repairs or replacements for products with defects, excluding those caused by intentional damage. Customers provide the order information on our website and we will respond promptly.

Is one year the end of our service? No! We provide lifetime customer service after the customer purchases our product. Customers can contact us at any time for any issues, and we will solve them or provide help as soon as possible.

We do not accept refunds due to short usage time of the scuba equipment, as this can vary greatly depending on the user's lung capacity, diving depth, and breathing frequency. If you feel that you have used the air tank for too short a period, please contact us! Our PADI certified instructors can provide you with training on how to extend your underwater breathing time, and practice your breathing skills.

We do provide CE and DOT certified inspection certificates for your scuba tank to help you show them when you go to the dive shop to get it refilled, but don't forget to also show them your scuba diving license.

Make money with SMACO! You can make money with SMACO by submitting pictures or videos of your diving experiences for cash rewards ranging from $5 to $200 with no limit on the number.