2023 NEW THE FAMILY AND BUDDY KIT
Are you ready to explore the underwater world? Then the SMACO Portable Mini Scuba Tank Kit is perfect for you! With two S700 diving tanks, two vests and a B-01 Multi-Purpose backpack, this kit is perfect for recreational and practice diving, treasure hunting, lobstering, boat inspection and cleaning, rapid entry rescue diving and more! The scuba tank kit makes it easy to find marine life underwater with friends and family for a wonderful vacation.
Get your ship ready, set it sailing, dive into the sea, and use SMACO to change your world!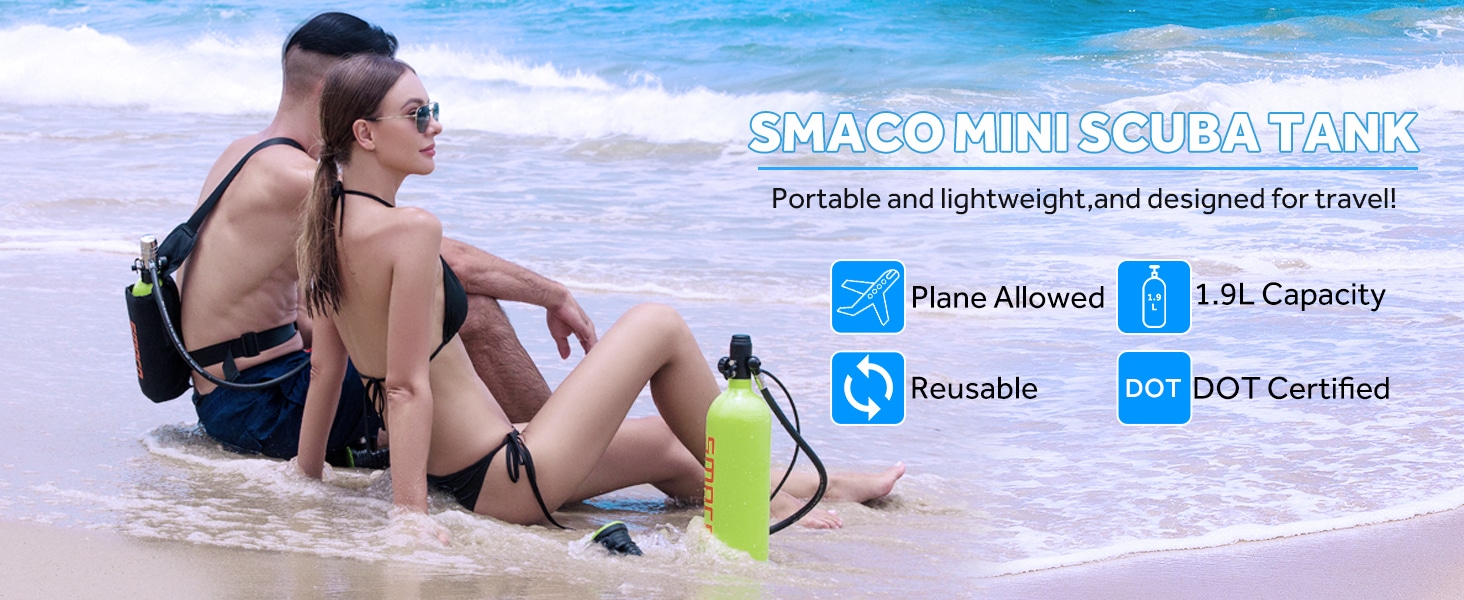 NEW PACKBACK & MORE DIVE TIME
The S700 diving tank is equipped with an extended pressure gauge, so you can easily check the pressure value underwater. At the same time, This scuba kit gives you a vest to hold the tank.You can free up your hands to do other things.
Safe to have on flights for a holiday This kit gives you the Multi-Purpose bag for storing/transporting diving cylinders and vests. It's more convenient to take on any airplane to your dream vacation!
 HIGH SAFETY STANDARDS
The S700 Portable Mini Scuba Tank Kit is DOT certified and comes with three refill options: local Dive Shop, SMACO 8mm refill adapter, or the SMACO Air Compressor. With its high safety standards and explosion-proof valve, More reliable and secure..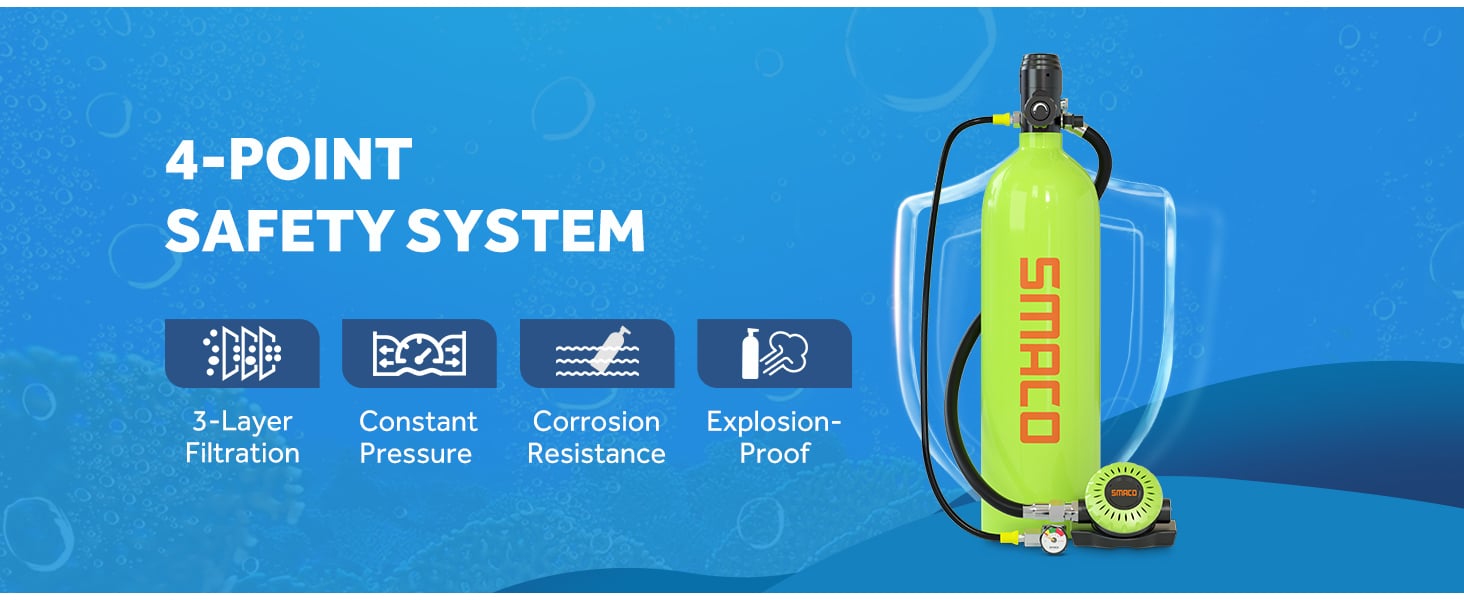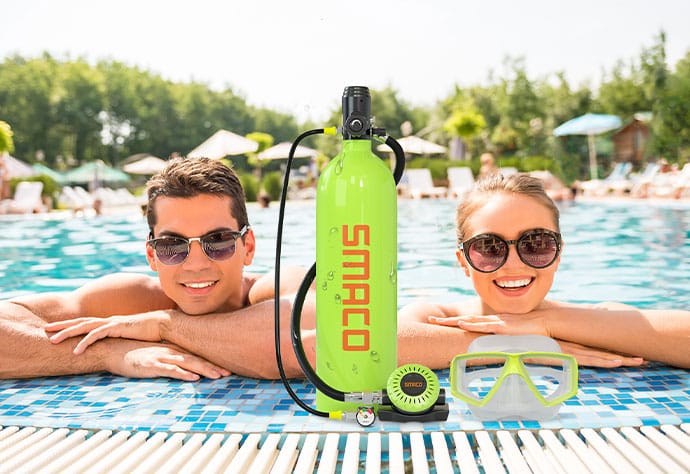 How long can SMACO mini scuba tank be used?
The usage time of SMACO portable lung tank varies depending on individual's breathing rate and depth, and we provide the air supply time tested in 3-meter deep water. It is recommended to read the instructions carefully and follow the guidelines before using it.
What are the ways to inflate the SMACO mini scuba tank?
There are 4 ways to inflate the SMACO mini scuba tank:
Manual pump: You can use a manual pump to inflate the mini scuba tank. This requires you to continuously pump by hand until the tank reaches the desired pressure. (Only applicable to tanks below 1L, as a backup inflation tool)
Electric Air Compressor: You can use an electric pump to inflate the mini scuba tank, which will be faster and more convenient.
Scuba tank: If you have a scuba tank, you can use a adapter to connect the mini bottles to transfer air.
Local diving shop: You can also go to a local diving shop for inflation, but you will need to purchase an adapter as an inflation tool.
Before inflating, make sure the tank is completely dry and in the closed position. Do not overinflate the tank to avoid damage. If you have any questions about inflation, please contact our customer service staff.
Can the mini diving tank be transported by air freight?
Yes, it can be transported by air. It is recommended to disassemble the gas cylinder prior to shipping and keep it in a gasless state to comply with air transportation restrictions. If you need more guidance on air transportation, please contact our customer service team.
How long does it take to ship?
The shipping time depends on the specific location and shipping method, generally taking 5-8 working days.For some remote countries or regions, the shipping time may take approximately 7-10 working days.
Do your have a money-back guarantee?
Absolutely. We believe the SMACO mini scuba tank is the best portable lung tank on the planet. If you disagree, or are less than 100% satisfied for any reason, then simply send it back within 30 days for your money back.
What kind of product guarantee do you provide?
We offer a return service within 30 days, as well as 2 years of maintenance assistance service. Our commitment to quality and customer satisfaction means that you can shop with confidence when purchasing SMACO products.
Basically, if anything goes wrong with your Mini Scuba Tanks/FFM Mask/Air Compressor- we've got you. We'll repair or replace anything that isn't working.
PRODUCT GUARANTEES
 SMACO offers a 30-day money-back guarantee for customers who are not satisfied with the product. If the product was shipped, the purchase price will be refunded minus the shipping costs.The cost of trial and error is not high, but the cost of miss is very high.
SMACO offers a free replacement for products you received that do not work. You just need to provide your order number and order information on our website, and we will provide after-sales service immediately.
SMACO offers a one-year after-sales service and provides free repairs or replacements for products with defects, excluding those caused by intentional damage. Customers provide the order information on our website and we will respond promptly.
Is one year the end of our service? No! We provide lifetime customer service after the customer purchases our product. Customers can contact us at any time for any issues, and we will solve them or provide help as soon as possible.
We do not accept refunds due to short usage time of the scuba equipment, as this can vary greatly depending on the user's lung capacity, diving depth, and breathing frequency. If you feel that you have used the air tank for too short a period, please contact us! Our PADI certified instructors can provide you with training on how to extend your underwater breathing time, and practice your breathing skills.
We do provide CE and DOT certified inspection certificates for your scuba tank to help you show them when you go to the dive shop to get it refilled, but don't forget to also show them your scuba diving license.
Make money with SMACO! You can make money with SMACO by submitting pictures or videos of your diving experiences for cash rewards ranging from $5 to $200 with no limit on the number.
For any inquiries, please contact us at contact@smacotanks.com and our professional customer & technical teams will get back to you as soon as possible.