SMACO MINI SCUBA TANKS WITH THE BEST PORTBALE BACKPACK
MORE DIVING TIME
Explore the underwater world like never before with the S700 Portable Mini Scuba Tank! This DOT certified aluminum cylinder has 1.9L capacity(2L in EU) supports 20 mins breath time in 10-15 ft underwater. The pressure gauge can show the remaining pressure and tell you the rest diving time. Easy to assemble and use, it comes with a diving vest and portable backpack so you can take it with you anywhere!
Note: Please NOT use it overthan 33ft if not used as backup air.(For uncertified diver, please check in advance if your local dive shop can inflate for you)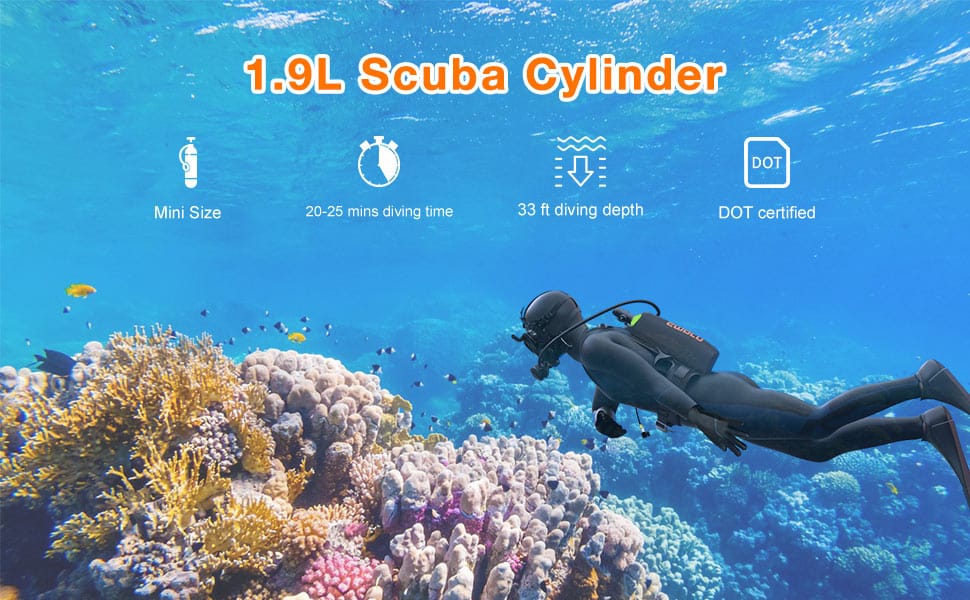 EASY DIVING & PORTABLE
The scuba tank incude three part:tank body, regulator and pressure gauge, which can be used after simply assembly. When underwater, you can fix it on you back with the included vest and enjoy your dive; after finish diving, you can put all into the backpack and way back. This scuba tank can be taken on the plane when you disassembly the regulator from tank body, which will be a good choices if you need to travel far to go diving.
HIGHER QUALITY STANDARD
Experience the highest quality and safety standards with the S700 Portable Mini Scuba Tank! This DOT certified aluminum cylinder has a maximum refill pressure of 3000Psi/200Bar and an 8mm international common filling interface with a built-in double-layer filtration device to effectively filter impurities above 3 um. Plus, its explosion-proof valve will automatically release pressure when the refill pressure exceeds 4500Psi, ensuring your safety and peace of mind.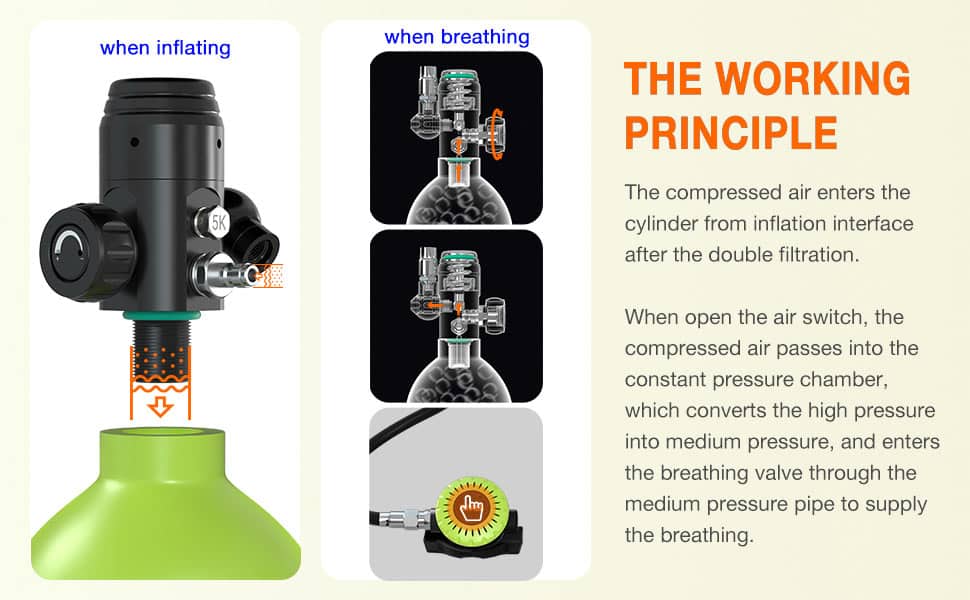 DESIGN FOR SHALLOW WATER DIVING
Look no further than this small scuba tank! Perfect for everything from learning how to scuba dive and underwater exploration, to boat cleaning, spearfishing and fixing docks underwater – This small scuba tank's diving depth is 33ft, perfect for shallow reefs and lakes. And it can be used as backup cylinder, in this case, the maximum diving depth is 100ft.. Get ready to explore a whole new underwater world!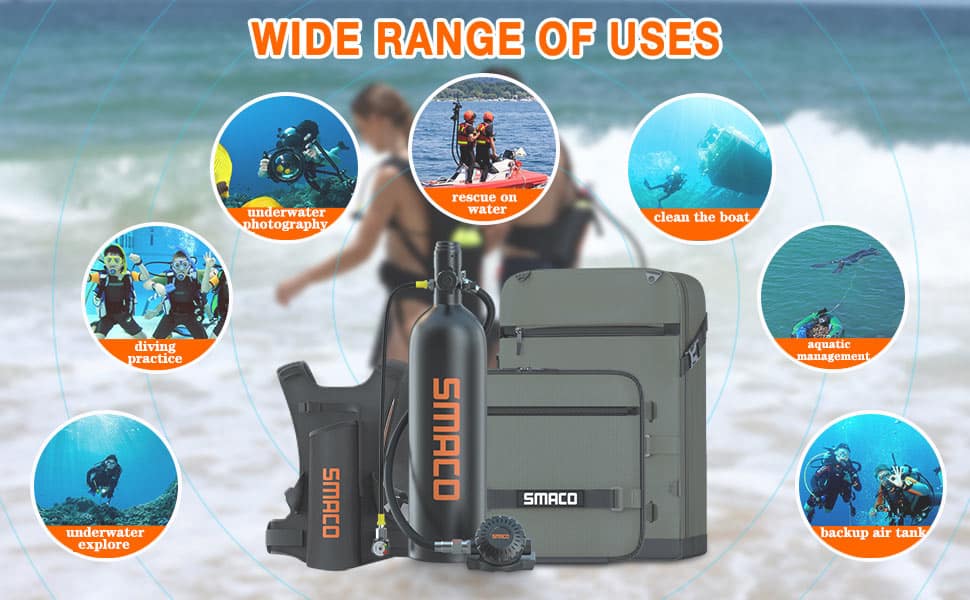 WHAT YOU GET
Discover the perfect color and package to suit your needs! Our packages come with a detailed description of what's included. Plus, you can rest assured with our 30-day free replacement or refund policy. And if you have any questions, our customer services team is available to assist you 24/7!
SOME FREQUENTLY ASKED QUESTIONS…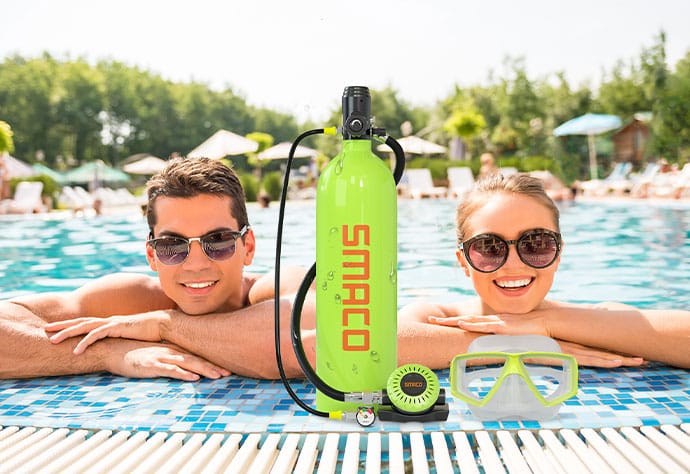 How long can SMACO mini scuba tank be used?
What are the ways to inflate the SMACO mini scuba tank?
Can the mini diving tank be transported by air freight?
How long does it take to ship?
Do your have a money-back guarantee?
What kind of product guarantee do you provide?
PRODUCT GUARANTEES
 SMACO offers a 30-day money-back guarantee for customers who are not satisfied with the product. If the product was shipped, the purchase price will be refunded minus the shipping costs.The cost of trial and error is not high, but the cost of miss is very high.
SMACO offers a free replacement for products you received that do not work. You just need to provide your order number and order information on our website, and we will provide after-sales service immediately.
SMACO offers a one-year after-sales service and provides free repairs or replacements for products with defects, excluding those caused by intentional damage. Customers provide the order information on our website and we will respond promptly.
Is one year the end of our service? No! We provide lifetime customer service after the customer purchases our product. Customers can contact us at any time for any issues, and we will solve them or provide help as soon as possible.
We do not accept refunds due to short usage time of the scuba equipment, as this can vary greatly depending on the user's lung capacity, diving depth, and breathing frequency. If you feel that you have used the air tank for too short a period, please contact us! Our PADI certified instructors can provide you with training on how to extend your underwater breathing time, and practice your breathing skills.
We do provide CE and DOT certified inspection certificates for your scuba tank to help you show them when you go to the dive shop to get it refilled, but don't forget to also show them your scuba diving license.
Make money with SMACO! You can make money with SMACO by submitting pictures or videos of your diving experiences for cash rewards ranging from $5 to $200 with no limit on the number.
For any inquiries, please contact us at contact@smacotanks.com and our professional customer & technical teams will get back to you as soon as possible.