SMACO S400, a mini diving tank that allows you to stay between 15 and 20 minutes underwater, with regulator and 1L capacity.
| | |
| --- | --- |
|  Brand    SMACO | Type    S400 |
|  Color    Green Black | N.W    2.33kg |
|  Using time    15-20 minutes | Size    36 × 6.8 × 8.9cm |
|  Material    6061 Aviation Aluminum | Capacity    1 L |
|  Max working pressure     3000psi/200bar/20Mpa | Surface Technology     Hard oxidation + Plastic spraying |
|  Breathing valve thread     M18×1.5 | Output way    Constant pressure is about 1Mpa |
|  Inflatable male     8mm | Breathing times     (Calculated at 0.5L per breath) About 340 times |
Do you need to dive underwater for a few minutes? This mini scuba diving tank is the solution, which guarantees you 340 breaths underwater, great, isn't it?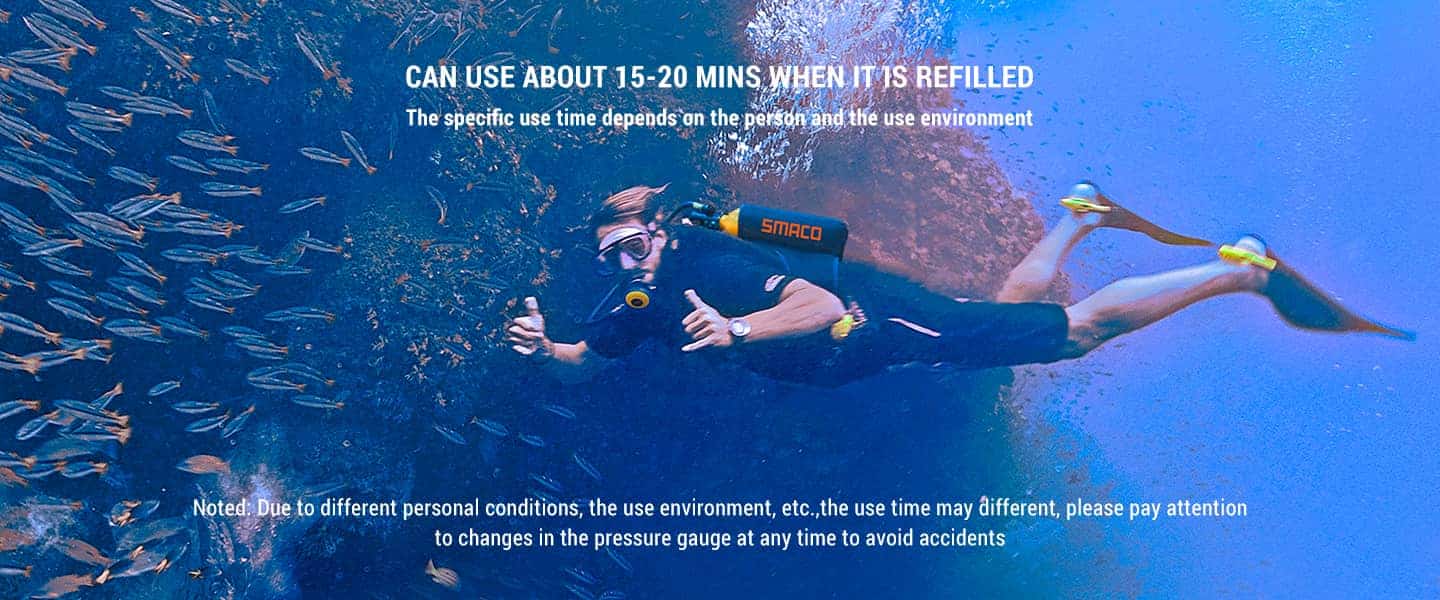 LIGHTWEIGHT EQUIPMENT FOR DIVING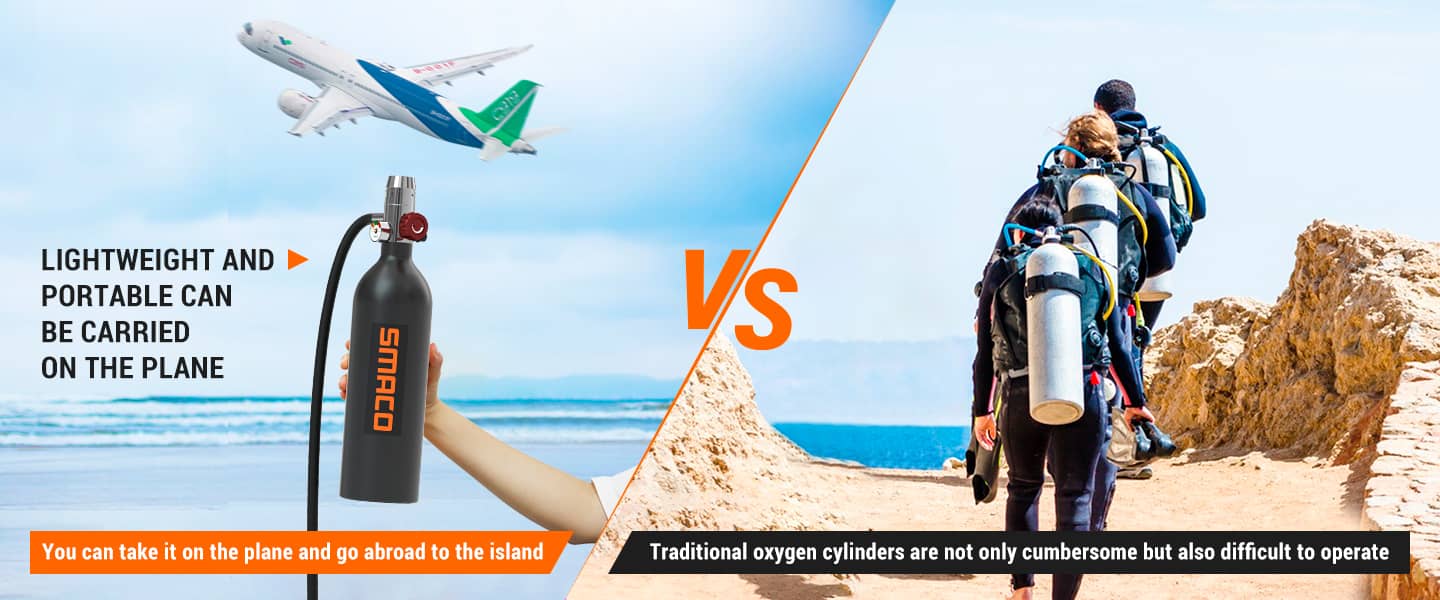 This mini scuba tank is only the size of a bottle of water and allows you to dive to a depth of 3 meters. It is completely independent, allowing you to breathe underwater for a few minutes to pick up things or untie ropes stuck in the ship's propeller.
An unprecedented experience
We knew that people use mini scuba tanks for recreational diving, yacht maintenance, lobstering, treasure hunting, fossil hunting, etc. … There are so many SMACO feedback videos from all over the world. If you are a professional diving enthusiast or a diving beginner, don't hesitate to get your spare diving artifact.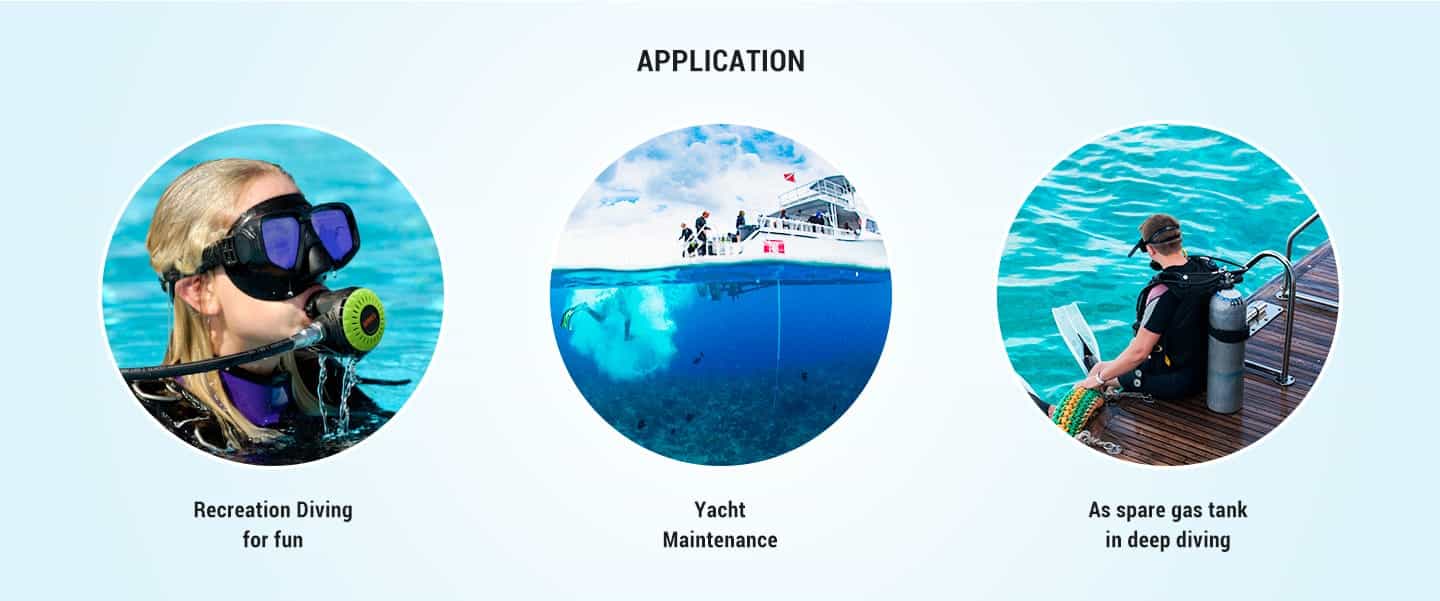 More delicate details
High-precision instrument underwater fluorescent display Breathing mouthpiece Ergonomic design, comfortable to use and not easy to fall Pressure relief valve Press and hold moderately for easy pressure relief.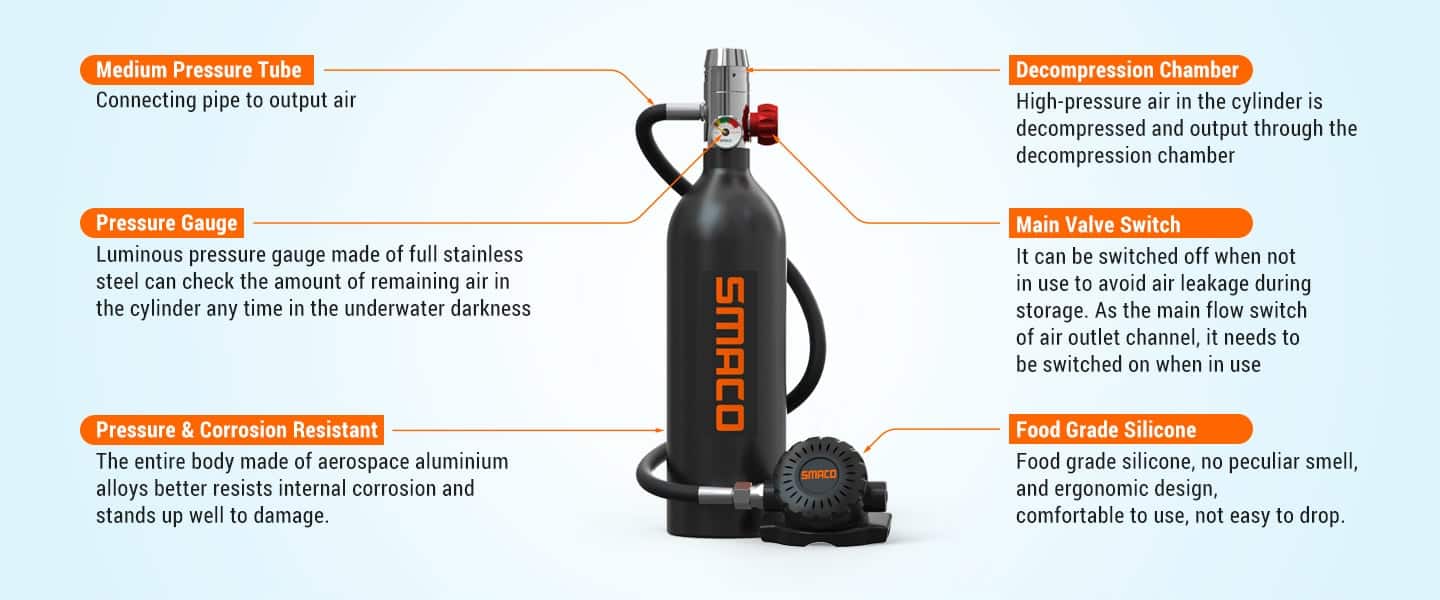 Three kinds of inflation air ways
High hand pump Manually pump up to 1000-1200 times.
Refill adapter Large bottles guide vials the fastest and most convenient, fill up in about 10 seconds.
Electronic pump Plug and play fill in about 26 minutes.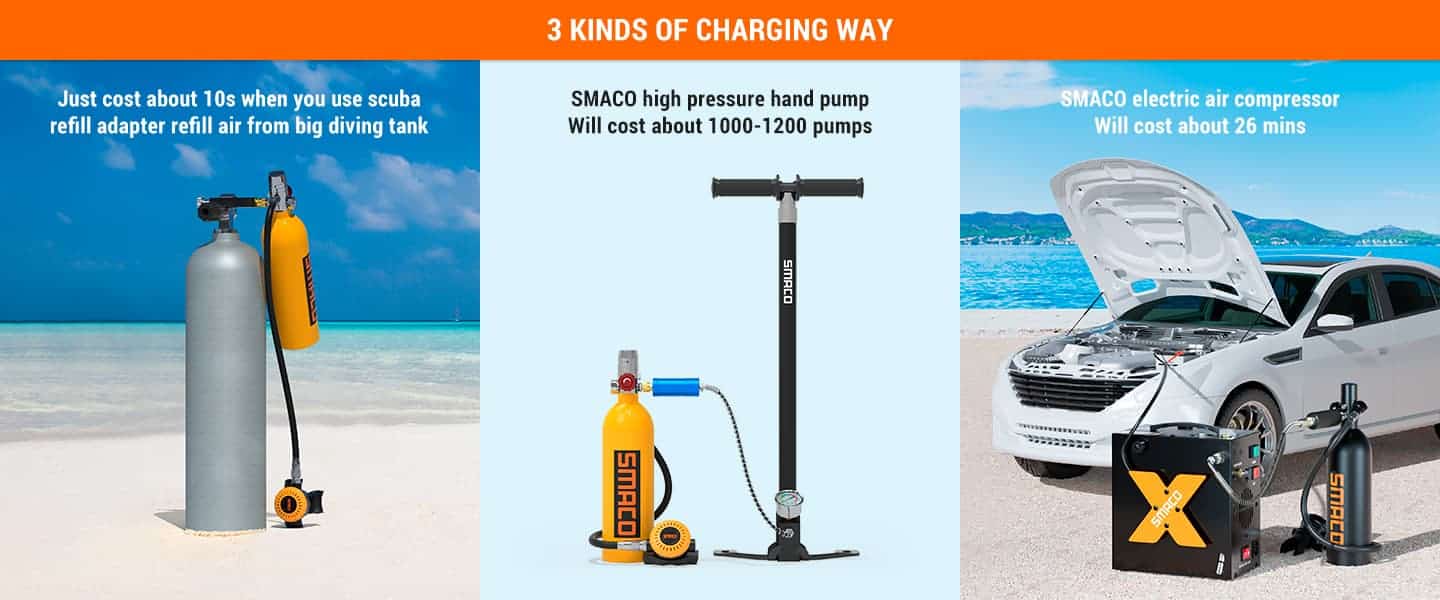 Note:
Do not stand directly above the product during inflation.
Always relieve pressure after inflation is completed, otherwise, it will cause danger.
Max pressure of Inflatable: 3000PSI/200BAR/20MPA
USING IT MORE SAFER
SMACO S400 diving gear adopts a constant pressure air outlet device to make the air outlet pressure constant, making breathing very easy.At the same time, an external explosion-proof valve design is adopted, which makes the explosion-proof index more accurate and safer to use.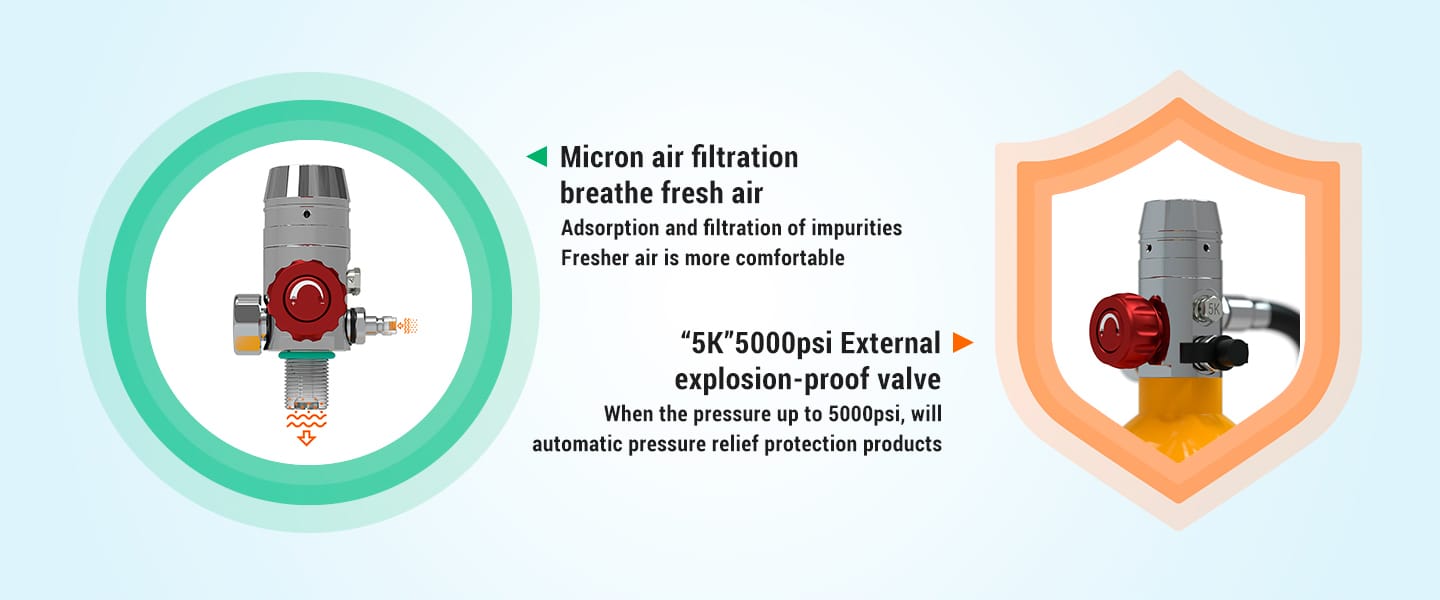 CERTIFICATION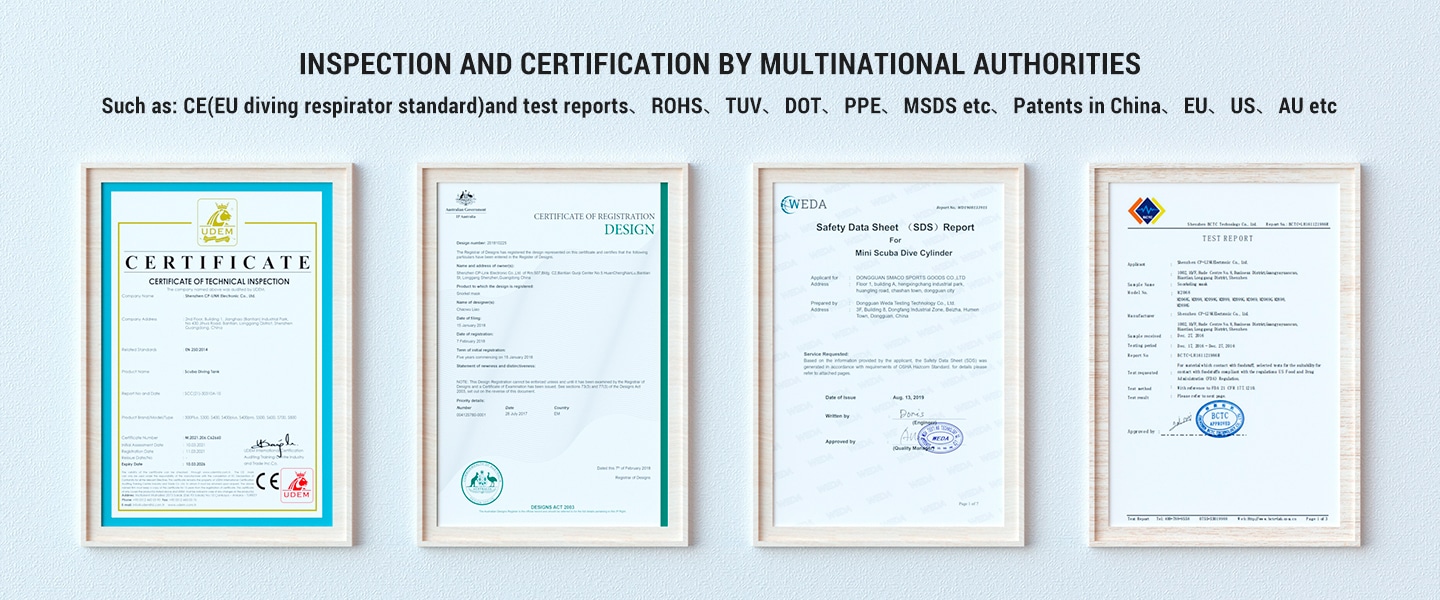 Email: contact@smacotanks.com