The SMACO electric air compressor is very compact and portable and It is suitable and convenient for filling your PCP or scuba tank anywhere. The compressor is designed with a professional transformer that can decrease current loss and avoid damage to the pump to increase its service life.
PCP Air Compressor
Set-Pressure & Cooling Fan
Portable Transformer
Super Easy To Connect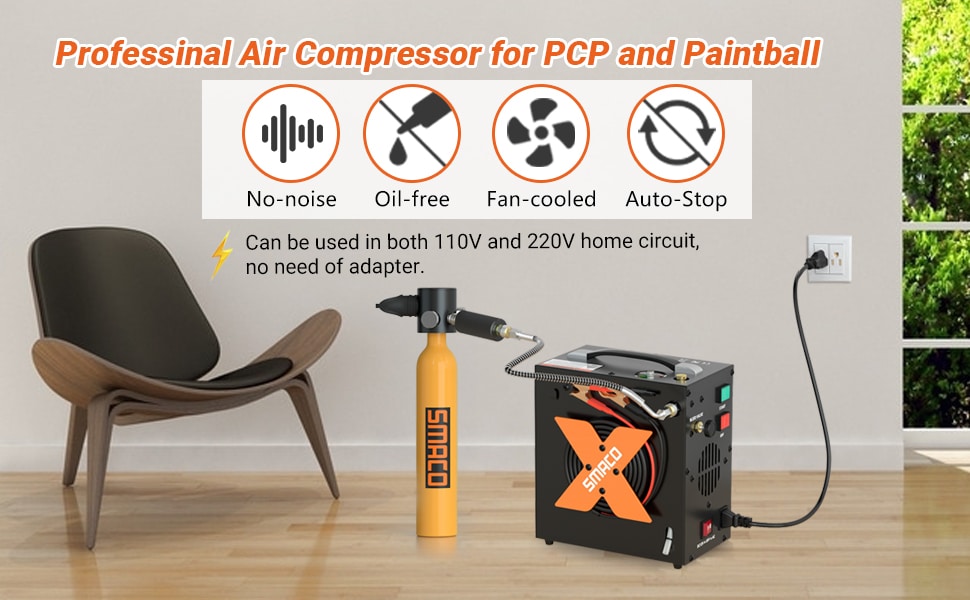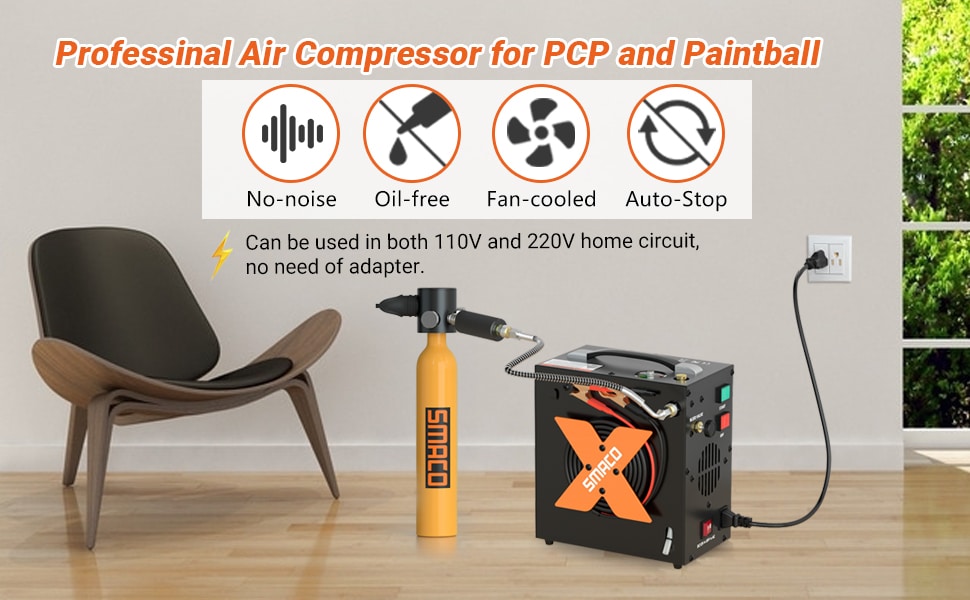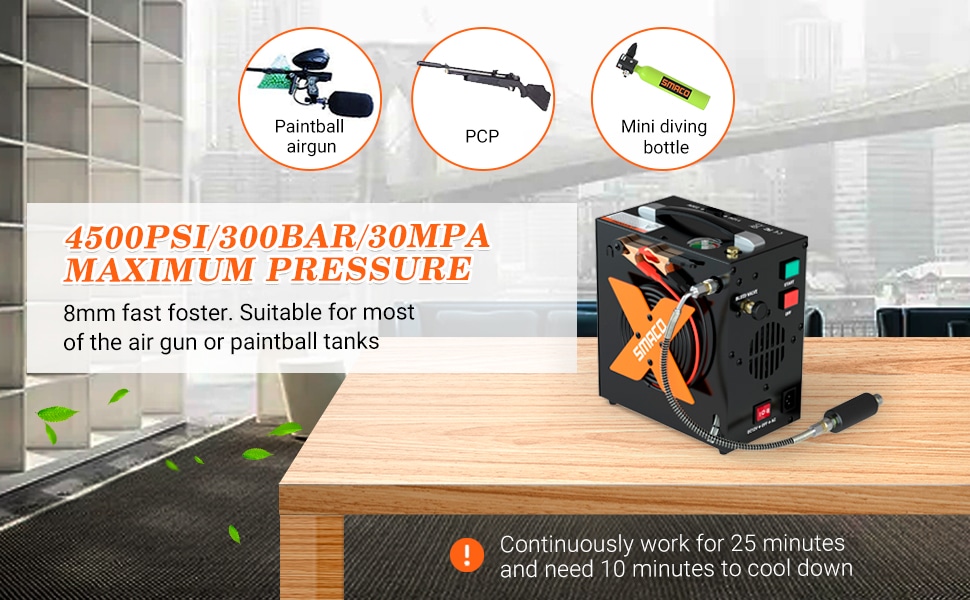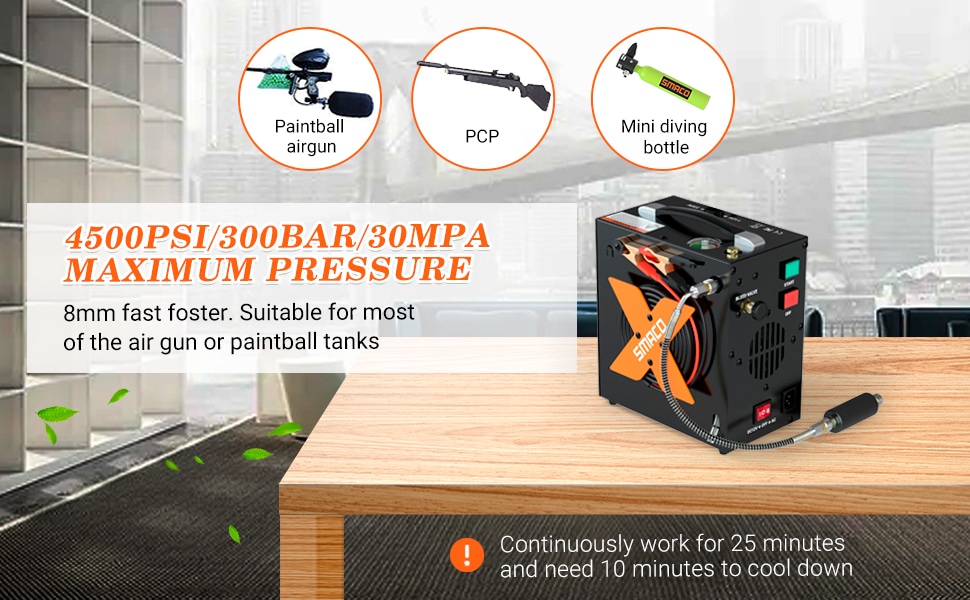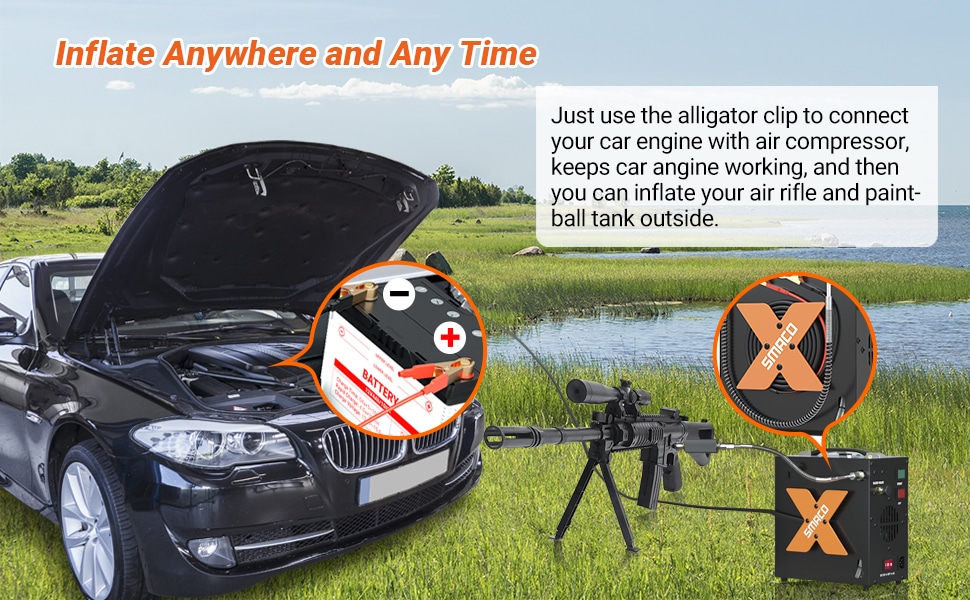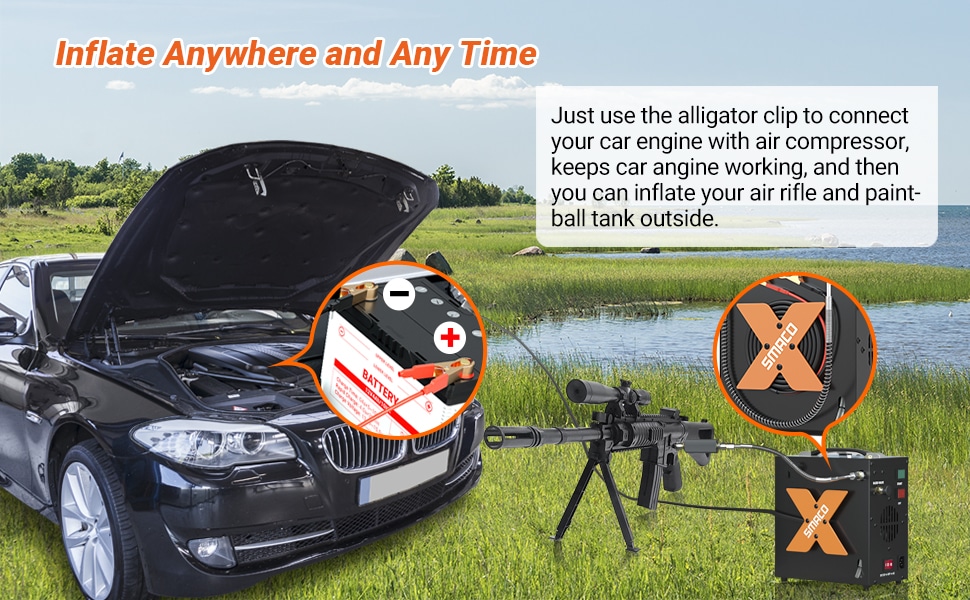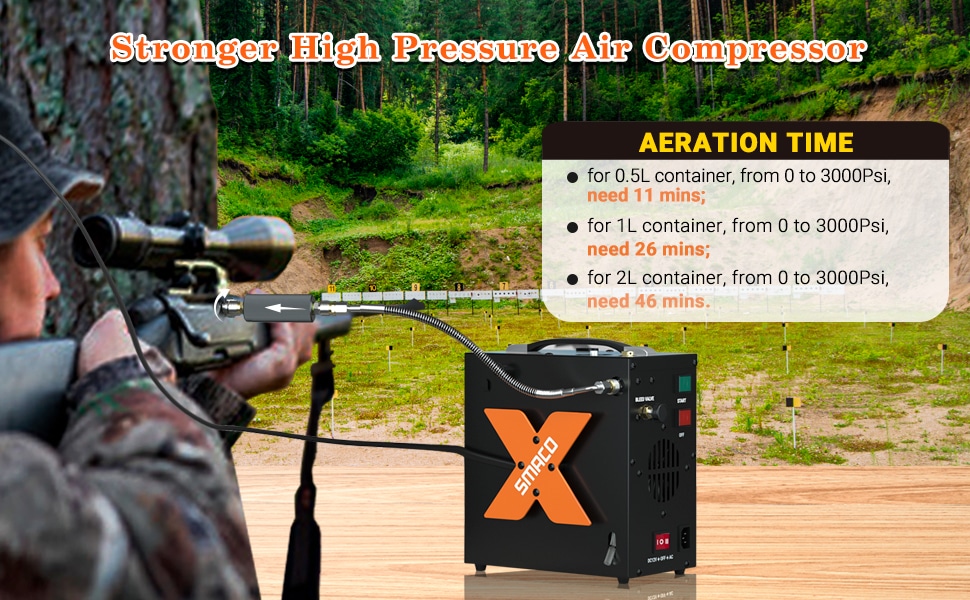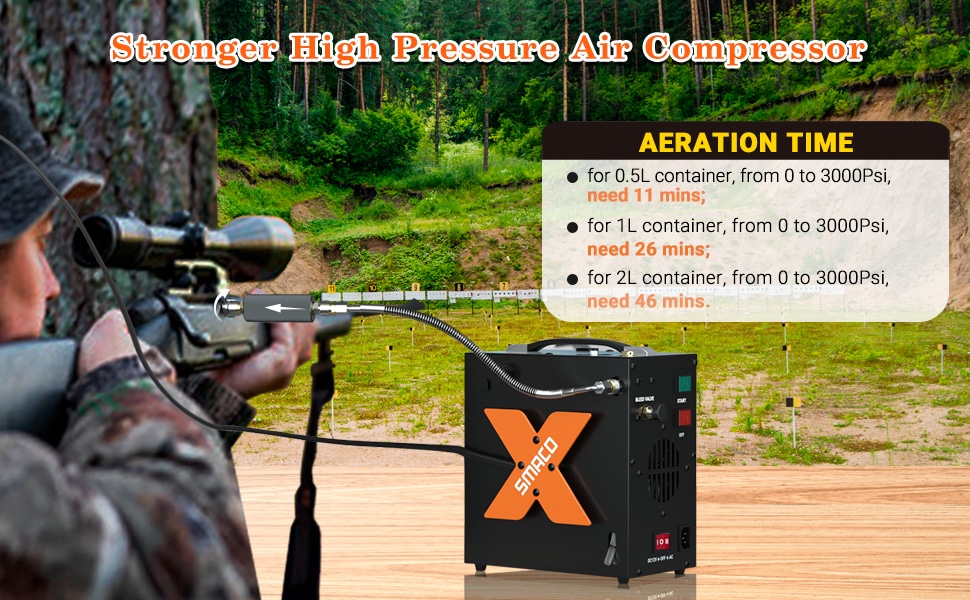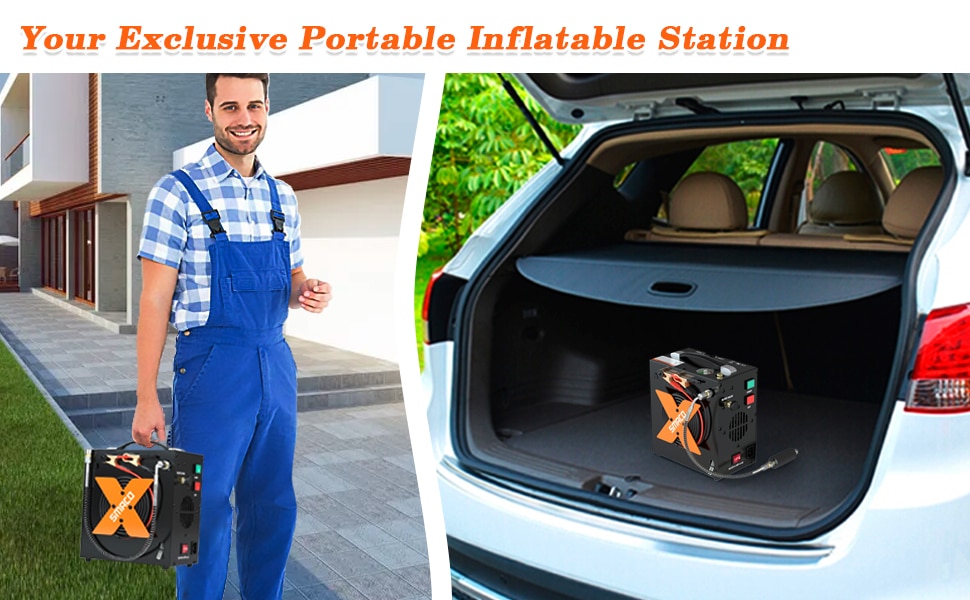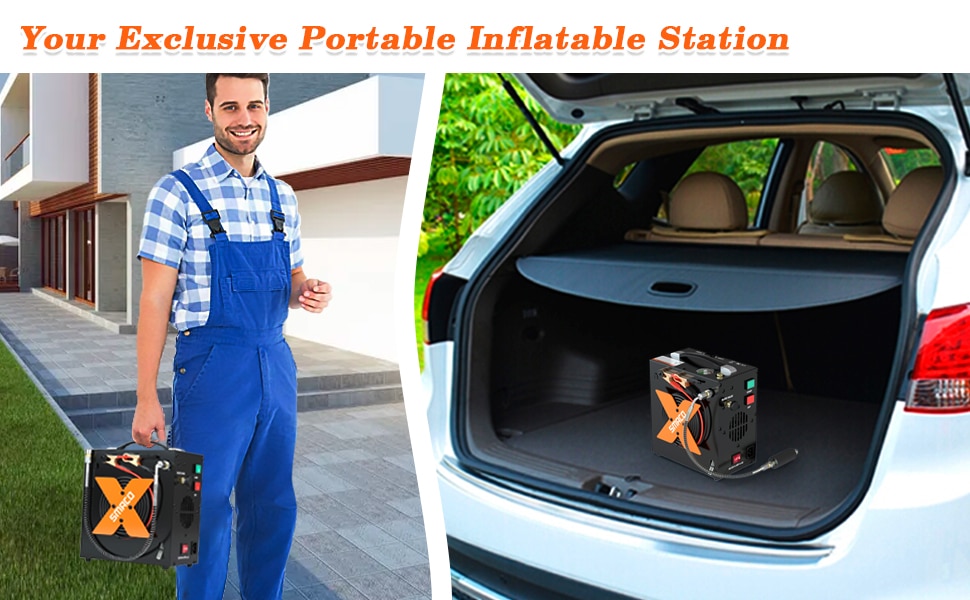 BUILT-IN POWER ADAPTER
Power converter are integrated in compressor.this is a hpa pump that doesn't need a transformer for wall outlet use,safer to use.SMACO scuba tank compressor can be powered by the 12V car battery, also can be powered by the home 110V/220V AC.This will make this air pumb more usefull as you can use it anywhere.
PRESSURE-SET & AUTO-SHUT OFF
The filling of a pcp or paintball air gun is hassle-free. The Maximum work pressure of this air compressor is 4500Psi/30Mpa/300Bar. Two pointers in the pressure gauge, one for the real-time pressure, another one is used to set pressure. You just need to set a inflation pressure, and the machine will automatically stop filling when the preset air pressure is reached.
DOUBLE FILTRATION & WATER-FREE
SMACO pcp air compressor is added built-in high-power fans, no need for an external water pump to cool. In addition, it is also equipped with an oil-water separator ,the 5μm fiber and active carbon combined filter element can effectively filter moisture and other contaminants in the air, output clean and dry high-pressure air.
FAST INFLATING SPEED
Under work voltage(12V DC or 110/220V AC), the engine speed can reach up to 2700r/min, and the air output is 11L/min. Our test results followed: for 0.5L container from 0Psi to 3000Psi, it spent 11 mins; for 1L container from 0Psi to 3000Psi, it spent 26 mins; for 2L container from 0Psi to 3000Psi, it spent 46 mins.
LIGHTWEIGHT AND PORTABLE
This high pressure air pump only weight for 24.8 lbs, and the size is: 9.6*5.6*10 in, it's easy for carry around.
(Note: after the inflation stops halfway,please release the pressure first and then start again, The duty cycle of the machine is 25 minutes run / 10 minutes cool)
POWERED BY CAR & POWERED AT HOME
This air compressor can be powered by the 12V DC car battery or powered by 110V-220V at home, it has a built-in inverter voltage conversion device, you can easily adjust it from 110V-220V AC with the user's normal. Note: the initial setting is for 110V AC at home. The inflatable interface's diameter is 8mm, which compatibles with most of the air gun/ paintball/scuba tank.    email: contact@smacotanks.com